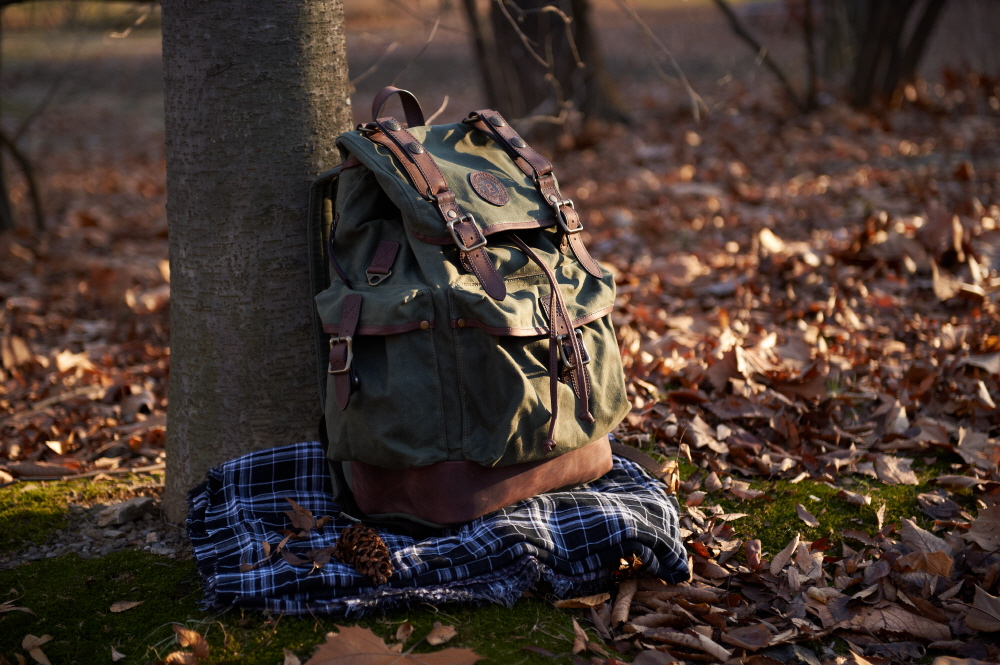 Builford Classic Backpack is designed in the typical style of most outdoor backpacks, but with a vintage luxury flair many other brands lack.
The Builford brand is relatively new to the fashion industry, but it carries its own history and tradition in its philosophy and concept designs. The Classic Backpack is a good example of the typical Builford bag — its an every day fashion item that doubles as an outdoor backpack. The bag doesn't lack any functionality due to its status as a fashion item — it's very durable and strong.
The leather drawstring closure at the top can hold a sleeping bag, a picnic blanket, or other small items, and the top of backpack and pockets are designed to slough off rainwater in bad weather. There is a separate waist strap in the front which is especially useful for long hikes to even out the weight. The pockets on the front and both sides all have magnetic locks for easy-access to frequently used items like smartphones and wallets.
The Builford Classic Backpack has a strong framework that keeps the shape of bag even when carrying very heavy loads. The padded back and shoulder straps are comfortable to wear and don't dig into the shoulders.

The devil is in the details, but the Classic Backpack lacks none. A  zipper on the back accesses directly to the inside compartment, making it easy to remove small items, such as a notebook, without opening the backpack. The inside space has a padded laptop compartment and has plenty of pockets to organize all belongings. The front pocket even has two small pen holders to ensure the bag stays neat and organized.
The specifications of the backpack are below:
Builford Classic Backpack-
Style No : B-1092 Classic Backpack
Size : 32 x 44 x 14 cm(W x H x D)
Materials: Martexin Original Waxed canvas (made in USA), Oiled leather, and Brass finishings.
Includes: Top flap with magnetic lock closures, Front magnetic pocket, Side magnetic pockets, Back vertical zip access to laptop compartment, Padded adjustable shoulder straps, Premium leather flap straps, Top carry handle. Premium leather belt.
Internal Features
– Padded back panel
– Laptop compartment
– I-pad compartment
– Accessories pockets
– Card pockets
– Pen loop (front pocket)