When you think of eco friendly fashion, especially eco tote bags, you might wonder how far it can go. Wouldn't the "eco-ness" limit the options? After all, we think we've seen all the possibilities for eco totes. There's only so many shapes and color options, and covering that with inspiring quotes will only take you so far.
But that's where Drilley's steps in and really takes the game to another level. Yes, sure, these are primarily eco canvas totes. However, the brand has started to release new variations that hint at a whole new world to come. 
The Future of Eco Friendly Fashion
Drilley's has never covered a basic design with an inspirational quote. From the beginning, their bags have stood on their own – bags that you carry because they work, not because they have a cute quote. 
That's primarily due to the thicker, industrial-level canvas that Drilley's uses, ensuring that their eco bags really are eco and reusable for years and years.
At the beginning, Drilley's spiced up their cream canvas totes with stripes and their fun, loopy logo in different colors. In addition to a basic square tote, they also have the Eco Cross Bag, which is deeper and comes with a removable shoulder strap.
Alongside both models now is a large shoulder bag and a messenger bag. This latter was a big step forward – we haven't really seen other brands doing eco canvas messenger bags. 
Additionally, recently they've pushed eco friendly fashion bags to the next step with a variety of colors. These aren't bright or wild colors, unlike the navy and bright blue totes they already have. These are more somber colors that actually make the bags suitable for more formal environments.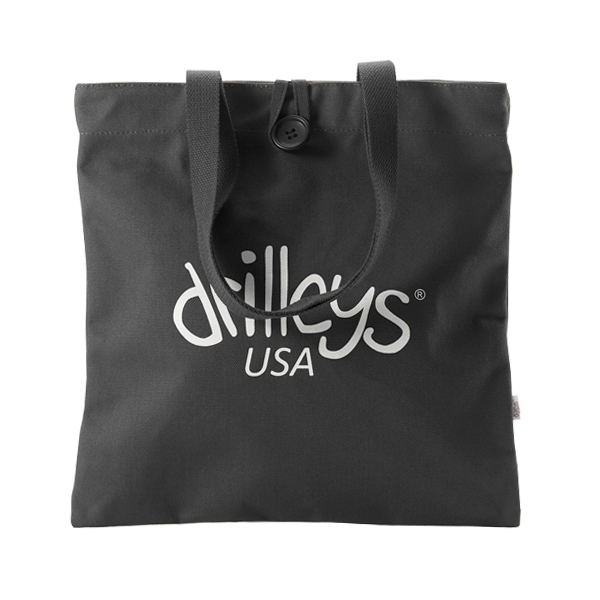 You probably haven't looked at a normal canvas tote and thought, that'd be a great work bag! And yet, these latest bags from Drilley's are actually great for work. What's more, they're definitely long-lasting, super strong, multipurpose bags you'll be using for years to come.
Now that's the future of eco friendly fashion we want to see! Get your bag at www.drilleys.com! 
---