Waxed canvas hiking backpacks are the best choice for cooler weather hikes. The heavier-duty material really shows its quality in autumn and winter. You'll find waxed canvas lasts longer and takes less wear than traditional nylon. 
There's really nothing not to like about fall. You may be a Halloween fanatic – for some people it's bigger than any other holiday, even Christmas! October is a spooky fest of skeletons and scares, building the best costume to wow your friends.
But what's really on the show in October is the weather and this gorgeous planet we call home. Every year it puts on its own spectacular performance. The brilliant fall colors, orange, red, and yellow herald the crisp, impossibly beautiful blue sky days. There's nothing better than heading out to feel the leaves crackle underfoot, drink in the clear air, and celebrate Earth.
Builford Waxed Canvas Hiking Backpacks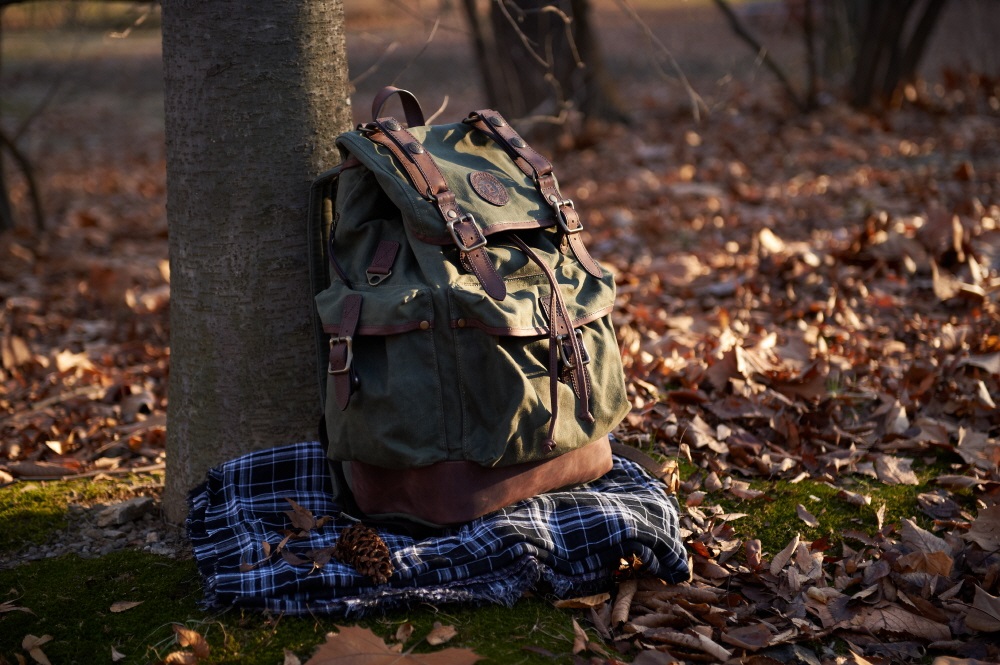 When it comes to fall hikes, waxed canvas hiking backpacks are a great choice. They handle cold weather very well, and are a big thicker, protecting your gear better. Waxed canvas is also naturally waterproof, in case you find some unexpected pockets of frost.
Any rucksack in the Builford collection will be a great choice for your new hiking backpack. 
Builford provides high-quality, beautiful rustic-style waxed canvas hiking backpacks. Those who love the vintage explorer look will adore these rucksacks. But so will those who love just a damn good backpack, solid and hard-working!
The backpack pictured in the top image of this article is the Laptop Backpack, which is actually perfectly serviceable as a daily office bag! But it can easily function as a hiking backpack as well for the weekends – or the days that are too beautiful to work. Sorry, boss, I'm sick – sick of being inside! 
The second image is the Classic Backpack, sitting pretty with its drawstring closure and flap top. There are many others in the collection, including the Explorer Rucksack and the Safari Roll Top Backpack. You'll want to take a look – here's the official brand website!
---